Loss of the USS Covington, USS Signal and Transport Warner
<![if !vml]>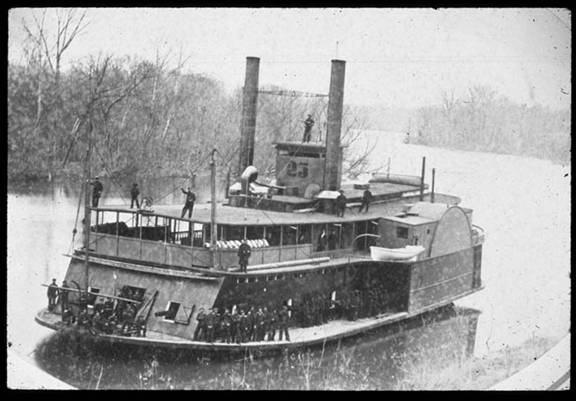 <![endif]>
USS Covington (Tinclad #25)
Photo courtesy Special Collections Library at Duke University in North Carolina
<![if !vml]>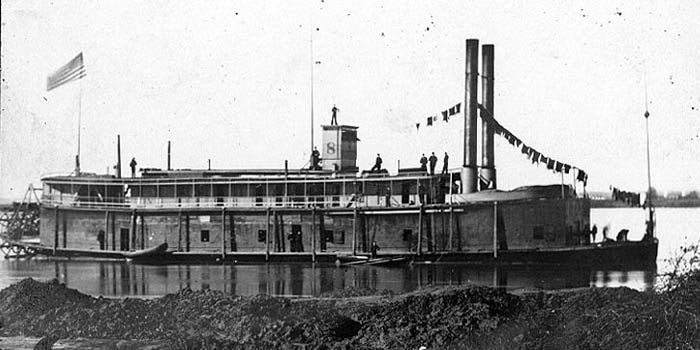 <![endif]>
USS Signal (Tinclad #8)
Photo from Naval Historical Center
Report of Acting Volunteer Lieutenant Lord, U. S. Navy, late commanding U. S. S. Covington, regarding the loss of that vessel during engagement below Alexandria, on Red River, May 5, 1864.
U.S. S. CHILLICOTHE,
Above Alexandria Falls, May 8, 1864.
SIR: It is with feelings of regret that I report the loss of the U.S S. Covington, and most respectfully submit the following report:
I left Alexandria convoying the steamer Warner at 8 o'clock on the morning of May 4, 1864.
While passing Wilson's plantation the Warner was fired into by about 100 infantry, losing one man. I fired my stern guns at them for some time and passed on.
After proceeding about 1˝ miles farther Mr. McCloskey, a pilot belonging to the General Price, struck the stern of the vessel against a bar, thereby breaking the port rudder badly and shivering the tiller. I told him that hereafter Mr. Emerson, my other pilot, would
handle her.
I tied up all night about a mile from the Red House and commenced repairing my rudder and tiller. At about 5 o'clock I was joined by the U.S.S. Signal.  Both of us kept up through the night an irregular fire on the right-hand shore going down, as they had fired upon us with infantry while we were repairing.
At 4.30 o'clock in the morning we all got underway, the Warner in the lead, the Covington next, and the Signal last.
At Dunn's Bayou (on the right going down) we were fired upon by two pieces of artillery and infantry. The Covington was hit by this battery only three times, and the Warners' rudders were disabled, but she still continued downstream until she came to a short point
in the river, when she went into the bank. She had no sooner struck the bank when a rebel battery on the right shore going down, and from 4,000 to 5,000 infantry, opened upon her and my vessel.
The Covington and Signal immediately commenced firing.  Almost every shot either struck the boilers, steam pipe, or machinery of the Warner, as she was only about 100 yards from the battery.
After we had engaged the battery about three hours, the Warner hoisted a white flag.  We still kept up our fire, and I sent a party from my vessel under a severe fire to burn her, but the colonel in charge sent me word that there were nearly 125 killed and wounded,
and requested that I would not burn her, which was granted.  A short time after this I was informed that the Signal was disabled.  I immediately rounded to and went alongside of her, took her in tow, and started upstream, but my rudder became disabled, and the Signal got adrift. It was impossible to pass the Warner, so Mr. Emerson, my pilot, informed me. Knowing that the Signal would drift down on the Warner and the rebels would immediately board her, I ordered the commanding officer to anchor her, which was done.
Finding it impossible to handle my vessel and fearing I should get on the side where artillery and infantry were, I went over on the other bank and made fast, head upstream.
I used my stern guns on the lower battery and my broadside on the infantry abreast of us and my bow guns on the battery that was ahead of us, which had been brought down from Dunn's Bayou.
My escape pipe was cut while alongside of the Signal, causing a great deal of steam to escape and making the impression that the boilers had been struck; the men, however, soon rallied and kept up a brisk fire on the enemy.  Most of the soldiers and officers,
amongst whom were Colonel Sharpe, of One Hundred and Fifty-Sixth New York Volunteers; Colonel Raynor, One Hundred and Twenty-Ninth Illinois [Fifty-Sixth Ohio] (wounded in both legs); Lieutenant Simpson, aid-de-camp to General Banks; and Acting
Assistant Paymaster Chester, went over on the Signal.  The Signal getting adrift from' us, they were not able to return to my vessel.
After I had been tied to the bank an hour or so, my steam drum was cut and a shell struck under the boilers, letting out all the water.
My ammunition gave out, my howitzers were all disabled by the bracket bolts drawing out, and every shot coming through us. With one officer and a good many of my men already killed, I determined to burn my vessel. I spiked the guns, had coals of fire strewn on the deck, and myself and executive officer set fire to the cotton, which was on the guards alongside of the engine. I saw it burning finely before I left, and feel sure she was destroyed.
While leaving the vessel to get up on the bank, a terrible fire of infantry was opened on us and some were killed in going up.
I collected my officers and men all together and found I had with me 9 officers and 23 men. My crew was composed of 14 officers and 62 men, and started through the woods for Alexandria. At 20 minutes of 11 o'clock, when within 10 miles of Alexandria, we were fired upon by rebel cavalry, thereby scattering us. I am glad to say that they have nearly all arrived here safely, with the exception of Acting Third Assistant Engineer Lyon, who was wounded in the head while fighting a few guerrillas who had fired into a party of my men while close to Alexandria. He has since arrived safe.
The whole action lasted about five hours, and the Covington was badly riddled from stem to stern, there being no less than five shots in the hull, some forty or fifty in her upper works.
The officers and men behaved with great gallantry, and, with exception of a few, this was their first action. Acting Master's Mate C. W. Gross was killed by a shot that came through the shell room.
The officers and men lost all of their personal effects, the only things that were saved being the signal book and the dispatches in-trusted to my care, which were returned to you. The arms that were brought with us I turned over to Acting Master H. H. Gorringe, of the Cricket, taking a receipt for the same.
In conclusion, I most respectfully beg that a court of enquiry may be called to determine whether the honor of our flag suffered in my hands.  Very respectfully, your obedient servant,
GEORGE P. LORD,
Acting Volunteer Lieutenant, U. S. Navy.
Rear-Admiral PORTER.